Checkpoint Products
DataLogic Scanners
Unitech Scanners
Unitech Terminals
Zebra Printers

.......

Zebra Ribbons
Labels

Zebra Technologies Corporations:- Zebra Technologies is a leading global provider of rugged and reliable specialty printing solutions, including on-demand thermal bar code label and receipt printers and supplies, plastic card printers, RFID smart label printer/encoders, certified smart media, and digital photo printers.

With the most recognized brand in the automatic identification industry and the most complete product line, Zebra solutions are used by more than 90 percent of Fortune 500 and global 2000 companies to improve business processes, increase productivity, and strengthen security. Over six million Zebra printers have been sold worldwide


DataLogic Scanning: - Today the AIDC industry is fast-paced, dynamic and requires a company to be committed, innovative and respectful of the rapidly changing needs of business. Datalogic Scanning is that company. Completely dedicated to Auto ID, Datalogic has established itself as a unique world leader by providing the widest range of multi-platform product solutions available.
With over thirty four years of industry experience combined with a thorough understanding of data collection, Datalogic has proven to be not only a designer and manufacturer of diverse scanning devices, but the market expert at providing data collection solutions tailored for the needs of industry. Delivering the right product to match the needs of business is the core strength of the Datalogic Scanning product portfolio.
Datalogic listens to the customers and the people that use its products so that new innovations can deliver real value and protect their technology investments now and in the future. Companies around the globe trust Datalogic to provide the equipment they can depend on to run their business and Datalogic is proud to be on their team. Working in collaboration with quality business partners to ensure smooth installations and continual support, customers can be confident that Datalogic Scanning is always standing behind them every step of the way.


DataLogic Automation: - A leading worldwide vendor in the industrial automation arena, providing top value solutions and developing superior customer intimacy, together with long-term partnerships, targeting Factory Automation and Transportation & Logistics application environments

Unitech Electronics Company Ltd: - Unitech was founded in 1979 in Taipei, Taiwan, to provide the local market with customized microprocessor-based automation systems. For the past 29 years, Unitech has been focusing on Automatic Identification and Data Collection (AIDC) products and services to enhance productivity and efficiency.
In 1985 we successfully launched our AIDC products lines, which have been growing ever since. Today, we design and manufacture a broad range of AIDC products, including Rugged PDAs, Rugged Handheld Terminals, Time & Access Terminals, Barcode Scanners, and RFID Readers.
Unitech APAC & Middle East operation is a latest regional business unit in Unitech ADC Group. We keep Unitech worldwide commitment to Asia Pacific & Middle East regional clients by Pre Sales, Marketing, Sales and Support / Service activities.
We will help our esteemed clients and partners to gain best solutions from worldwide channel partnership as well as Strategic Alliance Partners. And commit to learn, share and grow together with our esteemed partners and clients.

Denso: - With this corporate principle, we at DENSO WAVE are striving to create an innovative business solution to open new ways for possibilities with our highly reliable state-of-the-art technologies and know-how developed in the automotive system industry. We provide products that will lead to better productivity and new values for a wide range of applications, from production to logistics to service. Our mission is to become a global company with efficient solutions responding to diverse needs of customers in a prompt and flexible manner.
Worldwide network connecting people, products and Information. Automated systems ytillizing technology and know-hou from various fields. Supplying creativity enhanced products which meet diversifled needs. Creating the leading Industrial trends for the future.

CheckPoint Systems: - Checkpoint Systems, Inc., is a US $834.2 million multinational manufacturer and marketer of technology-driven integrated solutions to protect people and assets and to facilitate the merchandising, tracking and securing of consumer goods at key checkpoints in the supply chain.
Checkpoint is traded on the New York Stock Exchange (NYSE: CKP).
Established in 1969, Checkpoint today is the world's leading provider of radio frequency (RF) based loss prevention systems to the $1 trillion global retail industry. With a heritage of high-performance technology solutions and relationships with an impressive roster of the world's most successful retailers and manufacturers, Checkpoint continually delivers smart solutions that make it easy for our customers to do business with increased efficiency, cost savings, rapid response and superior service.

Avery Dennison:- Manufacturers and Distributors of Fasson products, the worlds leading brand in pressure Sensitive Label stock materials.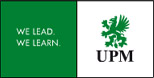 UPM Raflatac:-UPM RAFLATAC also is a globally leading supplier of Pressure Sensitive Labels stock materials.

3M: - 3M is a diversified technology company and they are in the market of Consumer and office: display and graphics: electro and communications: Healthcare: Industrial and transportation: Safety: security etc., They are also in the market of speciality Pressure Sensitive Polyester Label stock materials.